TVA Fun
Tennessee Valley summers brings warm weather and plenty of opportunity to get outside on TVA's lands and lakes and play the days away. What to do? Scroll on for great ideas.
At TVA, we're hardwired for fun. Recreation is part of our mission—it's who we are. And there's plenty of fun to be had year-round on TVA land and water.
Do you love to hike? We've got trails for every ability. Fishing your obsession? We have some truly world-class bass and trout fishing destinations. Do you like to kick up dirt? We have some spoke'n hot mountain biking trails. Birdwatching more your style? Take a peek at our small wild areas. Camping? Boating? Swimming? Paddling? Check, check, check, check. And those are just a few of the possibilities.
All you need to do, any time of year, is get out there and have a good time. Share your own stories and photos on Instagramusing #TVAfun!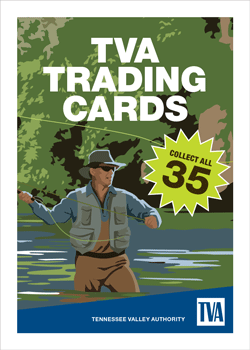 Retro-Modern Trading Cards!
Collect and trade our series of 35 TVA dam cards. Each includes a beautiful illustration on the front, and vital stats on the back, including dam data and insider info on the best ways to have fun on the reservoir. Get our best tips for hiking and biking, fishing, camping and more! See them all.
Find the trading cards at our visitors centers at Kentucky, Norris and Fontana dams; at Raccoon Mountain Pumped Storage Facility; or at our TVA regional offices in Knoxville, Chattanooga, Murphy, Paris, Lenoir City and Gray, Tenn., and Guntersville and Muscle Shoals, Ala.